DATE:

January 22, 2011



EVENT:

2nd Annual Formal Awards Banquet



MISSION REPORT BY:

Cheryl "Whinter" Whitaker (TI/TB-3127)

Once again, this was definitely a night to remember! This was the MWG's Second Annual Formal Awards Banquet, and we really lived it up!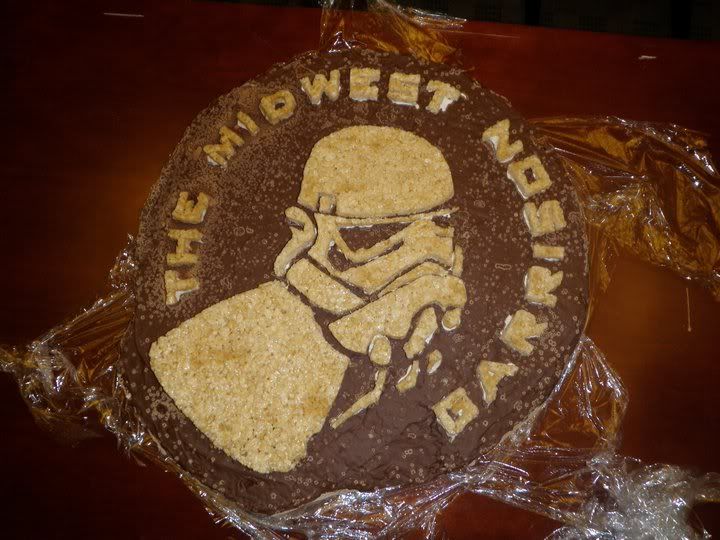 The tables in the Maple Room at the Double Tree Hotel in Downers Grove, IL were draped with white linen tablecloths and adorned with homemade Star Wars chocolates, candles and personalized champagne flutes for each guest. And in the middle of each table…balloon bouquets representing the colors of the 501st Legion… Red, White and Black.
Not only did we have many of our Midwest Garrison members, but also several friends from the Wisconsin and Central Garrisons, as well as from the Central and Nar Shaddaa Bases of the Rebel Legion! We were also honored to have all of our MWG Founding Members with us too this year! Seeing everyone there with their spouses and significant others was like having one huge family reunion.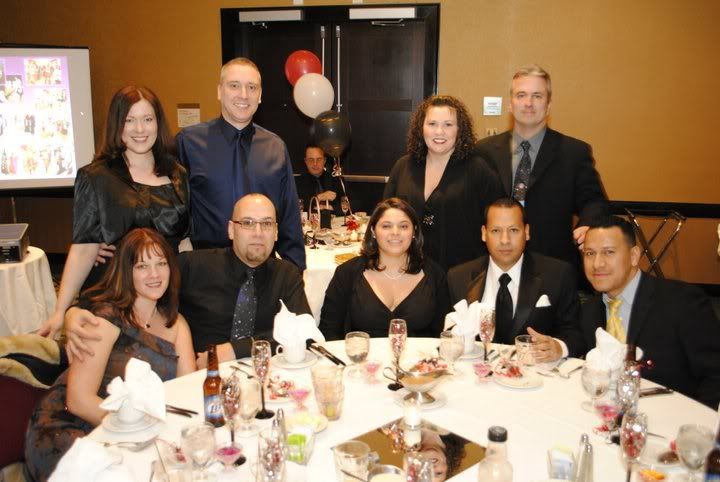 Much like our first year, for the first hour of the banquet, there was a vegetable table set up for the guests to enjoy until dinner was served. In the background, the DJ (our very own Joe "River" Rivera CC-3166) had the familiar songs/sounds from the entire Star Wars saga playing softly throughout dinner.
There was also a PowerPoint presentation being projected throughout the night on two large screens that continually looped through a photographic "Year In Review" of the events the Garrison participated in throughout 2010. It was a great way to re-live all the great memories and fun we all had together.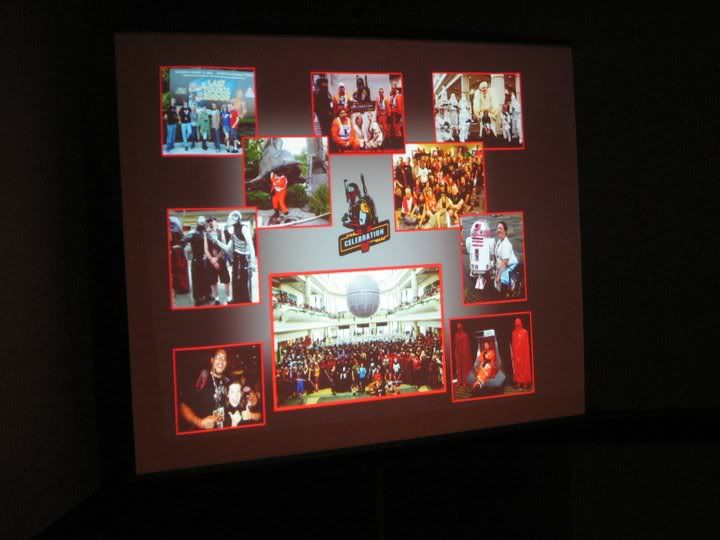 After dessert we began the next stage of the evening…the Awards. This year we went back to January of 2007 as our starting point to base our TOD Award Pins on. Members with 10 troops are awarded a bronze MWG pin, a silver pin for 25 troops and a gold pin for 50 or more. We even had 2 troopers that trooped over 100 events since January of 2007!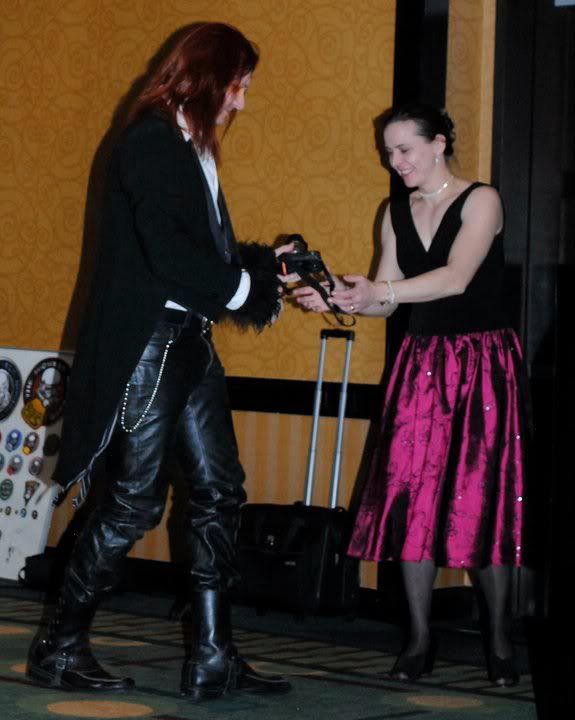 In addition to the trooping awards, we once again handed out "funny" certificates for all of the 501st and Rebel Legion members in attendance, as well as our "Golden Trooper Award" for 2010. This Year's GTA was given to Steve Szyndrowski (ID-3052) for his dedication and spirit for trooping; big or small events, close or far… for a total of 46 troops in 2010 alone. Congratulations, Steve!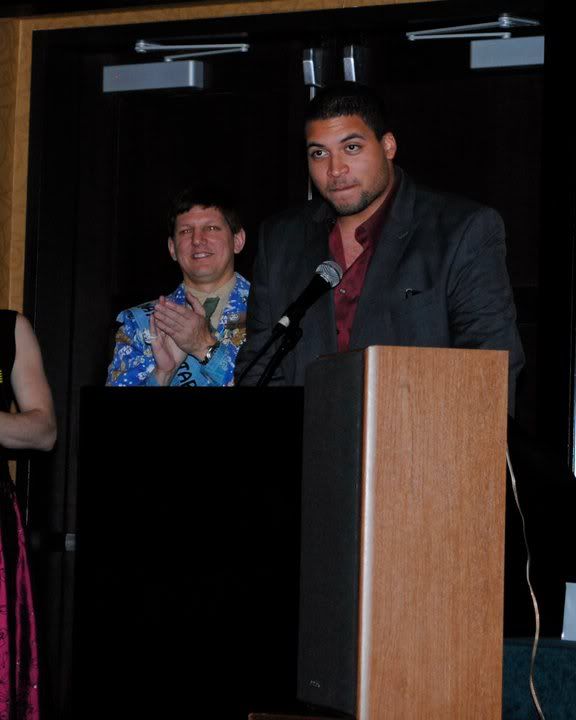 Then came the big surprise for our Commanding Officer, Aimee Jorgensen. Aimee's current Biker Scout helmet has, let's just say, seen better days. She has trooped with it since 1999 and it has seen many, many troops. But on a very cold Thanksgiving Day in 2010, just minutes before trooping in the Chicago Thanksgiving Day Parade, it accidentally fell to the concrete ground, severely damaging it. With the help of white duct tape and superglue, it made it through the parade, but now was in desperate need of being replaced. The Garrison came together and presented Aimee with a "Free" coupon for a new MLC-V3 Scout helmet! I think for once, she was speechless.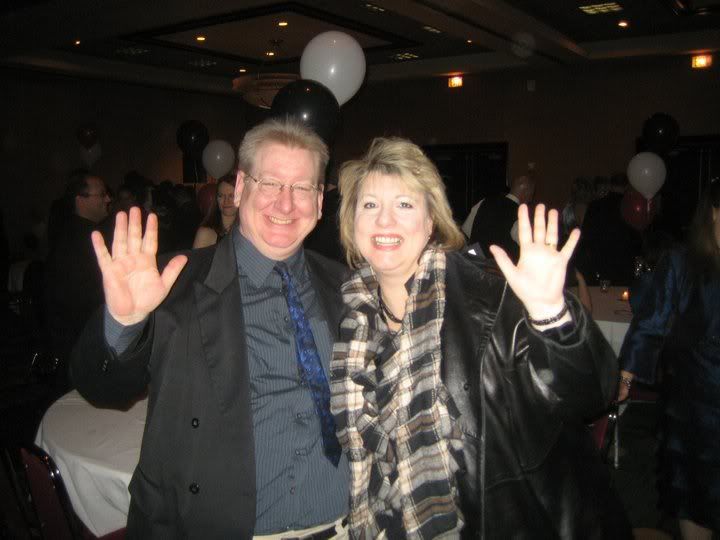 Once the awards were over, it was time for the group picture and then… time to DANCE!!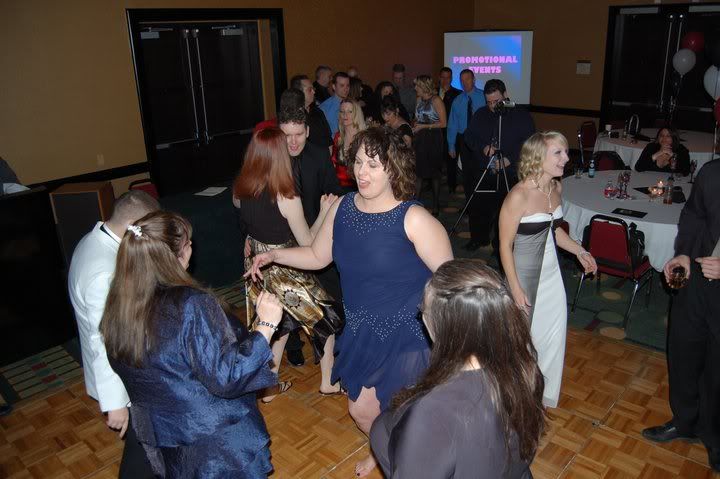 It was another fantastic turnout for our 2nd Annual Formal Awards Banquet. We ended up with over 20 more attendees than last year, bringing our total to 85! Hmmm. Can we break 100 next year? LET'S DO IT!!
SAVE THE DATE FOR THE 3rd ANNUAL FORMAL AWARDS BANQUET... SATURDAY, JANUARY 14, 2012!!!!

LOCATION: TBD